The incredible Tina, she's my hero. I love that woman. Tina is the best female singer of all time... I have been listening her for close to 30 years and following her life. Tina Turner has become a symbol of so many things — sex appeal, resilience, empowerment... The strength of her voice, amazing singing voice, charisma on stage, and the power of her life story are indication a very strong and an extraordinary personality.

I met Tina in Paris in June 2007 (renovated Boutique Cartier in Paris at Place Vendome). I'll never forget my first glimpse of her when I was taking a great picture (only one) while enjoying the moment and our short conversation:)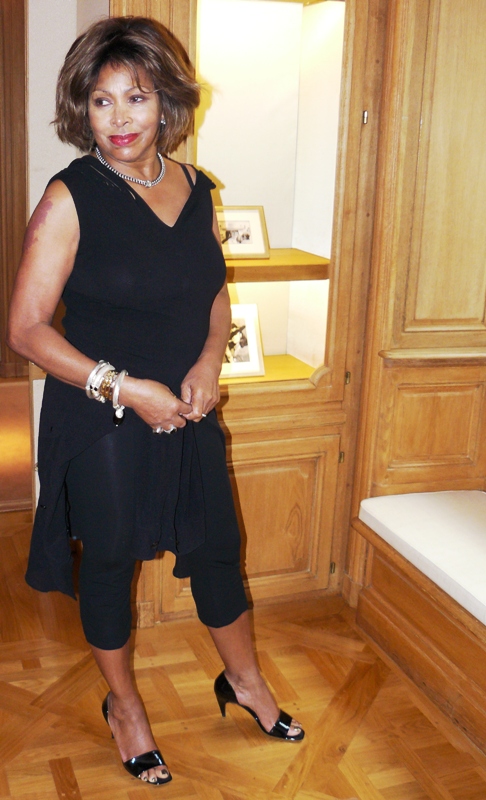 Tina Turner was born on November 26, 1939 in Brownsville, Tennessee. She's known as a singer and actress, originally from the United States and now a Swiss citizen. She's the Queen of Rock 'n' Roll and a believer in the power of love... The Queen of Rock 'n' Roll is not just a powerhouse on stage. She is also a longtime Buddhist, having begun her practice in the 1970s while struggling to end an abusive relationship with musician Ike Turner. Soka Gakkai, the tradition to which Tina Turner adheres, is like other schools and subschools of Nichiren Buddhism; it focuses on the Lotus Sutra and teaches that chanting its title in Japanese—Nam-myoho-renge-kyo—ultimately enables chanters to embrace the entirety of the text and uncover their buddhanature.

"I believe that if you'll just stand up and go, life will open up for you. Something just motivates you to keep moving".
"People think my life has been tough, but I think it's been a wonderful journey. The older you get, the more you realize it's not what happened, it's how you deal with it".
"My greatest beauty secret is being happy with myself. It's a mistake to think you are what you put on yourself. I believe that a lot of how you look has to do with how you feel about yourself and your life".
"My legacy is that I stayed on course…from the beginning to the end, because I believed in something inside of me. So my legacy is a person that strived for wanting it better and got it. I didn't have anybody. Really, no foundation in life, so I had to make my own way. Always, from the start. I had to go out in the world and become strong, to discover my mission in life".
"My wish is to give the kind of truth to people that will help them change their mind and life. When that happens, I'll be the best that I can be".
"I like me very much. I have a simple, childlike view of life, and I want to keep it".
"Sometimes you've got to let everything go - purge yourself. If you are unhappy with anything... whatever is bringing you down, get rid of it. Because you'll find that when you're free, your true creativity, your true self comes out" (Tina Turner)